Get Yourself A Contractor You Can Trust.
Thank you for visiting our website. CQR specializes exclusively in Kitchen and Bathroom remodeling, allowing our team to focus on becoming the best in our industry. With over 30 years experience its not wonder customers have nothing but good to say about us. If you looking for quality workmanship and quality service with people you can trust, you've come to the right place!
Aracely Reyes-Garcia
"The CQR team did an awesome job remodeling our bathrooms. The results were better than we expected. The entire staff was professional, honest and helpful at every stage of the project. Seven months after completion Mr. Salinas is still following up with us to ensure we are satisfied with their work. Highly recommend CQR to anyone thinking about a remodeling project."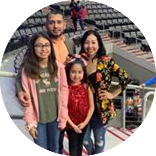 Get Started With 3 Easy Steps
We Remodel Your Dream Space
We Remodel Your Dream Space
The Valley's #1 Choice in Kitchen and Bathroom Remodeling
We are located near McAllen, TX and service the entire Rio Grande Valley. Call us today for any of your remodeling needs.
Schedule a Call Back For a Free Quote!
Phone:
(956) 207-4175
Email:
info@cqrkitchenandbath.com